The ending to a great film will make you feel something intense, whether it's sadness, fury, happiness, exhilaration, or some combination of these emotions.
The ending to a great film will make you feel something intense, whether it's sadness, fury, happiness, exhilaration, or some combination of these emotions. This is achieved through a steady process of priming you to see things in a particular way. Without the context of the events leading up to it, the ending wouldn't seem all that important.
This is the power of storytelling: it gets people invested, slowly but surely. When you build a strong narrative, you can focus attention as it unfolds, ensuring that the conclusion has the perfect opportunity to leave an impact — and in the world of ecommerce, proving impactful is a matter of absolute importance.
And like an excellent story, a successful customer journey typically features numerous steps before it reaches the purchase. If you want to maximize your sales, you need to plan out a compelling journey — so why not use storytelling to do it? Here are some core tips for using storytelling to create a formidable customer journey:
Clearly identify the instigating issue
Something needs to start a customer journey, because it doesn't just appear out of nowhere. There's always a fundamental motivation pushing someone in a particular direction. If you can identify the source of that motivation, then you can cater to it while setting up the broad story of how someone goes from a prospect to a customer.
Below is an example of an opening statement for a big brand (Spotify, to be exact). It promises millions of songs for everyone for free. From this, you can easily figure out what's motivating the potential Spotify customer: a desire to listen to more music (more songs and/or more variety) and frustration stemming from unnecessary payment.

This is a really obvious example, but you can imagine the power of telling a story featuring a protagonist who struggles to find the right music to enrich their life. Perhaps they can't afford to pay for individual songs or albums — then along comes this streaming service to solve that problem. If you're going to tell a story about your customer, then you first need to have a very clear understanding of what began their quest. Only then can you tailor it accordingly.
Show empathy for the customer
Though you can tell specific stories (more on that next), the general story you're telling is of the possible customer you're directly targeting with your marketing and sales materials. If you've identified why they're on the lookout for a solution, then you can start moving them towards yours, but it's essential that you show empathy.
This manifests in what you say and how you say it. Here's the thing about simple but classic stories: they're so effective because they push us to root for their protagonists. When you share your life story with someone, don't you expect them to consider your perspective? If they understand your position but don't show any empathy, then you're not going to want to spend much time with them or listen to what they have to say.
Even though you're the writer, you're telling the prospective customer's story, so you need to clearly see their grievances as serious and legitimate. It might be that the instigating incident is relatively unimportant in the grand scheme of things, but don't be flippant about it — it matters to them, so it has to matter to you. If you can do it delicately, then feel free to add comments about how annoying a particular situation can be (if you go overboard, you'll seem condescending).
Tell existing success stories
I mentioned using specific stories to push things along, and you should specifically be telling stories about your existing customers. How have your products and/or services helped them overcome their obstacles and achieve their goals?
Try to pick out stories from people or brands that fit the context: for instance, if you're building a customer journey for a B2B business, then use a case study from a B2B business. The more the reader can identify with the subject of the case study, the more effective it will prove.
If possible, use visuals to reinforce this social proof. Below is an example I found on the main page for the Shopify POS system: not only is there added credibility when there are faces put to the attached names, but there's also the benefit of having a wholesome photo of a photogenic family. After all, if the system is good enough for these nice people, isn't it good enough for you?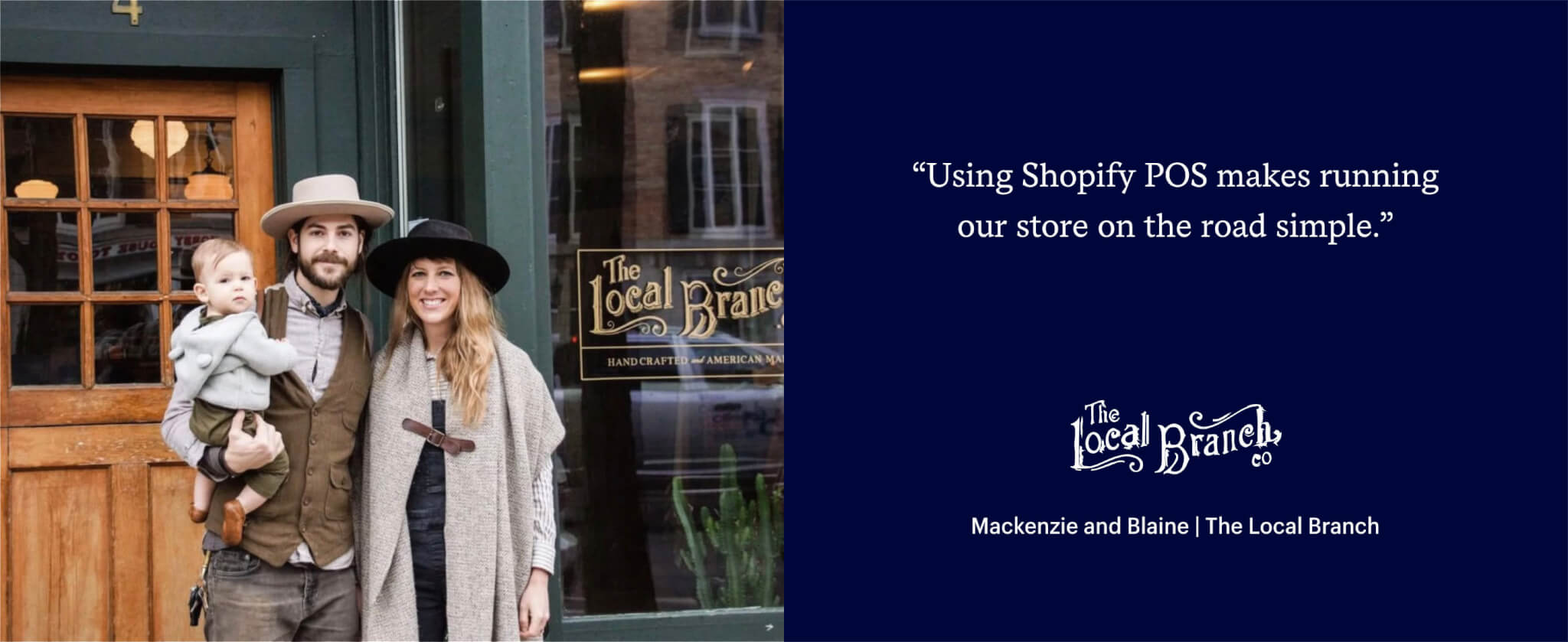 In the end, you're trying to paint a rosy picture of the future — to explain that buying from you is the path to giving their story an uplifting ending. The more similar stories you can tell, the more easily the reader will believe that theirs will follow a similar route.
By using storytelling elements, you can create a customer journey that understands motivation, presents a compelling solution, and proves real credibility. Give it a try.

Micro Startups is your online destination for everything startup. We're dedicated to spreading the word about hard-working solopreneurs and SMEs making waves in the business world. Visit the blog for your latest dose of startup, entrepreneur, and charity insights from top experts around the globe @getmicrostarted.
Email marketing certainly isn't a new idea, brands and companies have long known the value of a well crafted email campaign when it comes to engaging with new and returning customers.
Email marketing certainly isn't a new idea, brands and companies have long known the value of a well crafted email campaign when it comes to engaging with new and returning customers. In fact, in 2019 email remains one of the top communication channels, with around 99% of users checking their inboxes on a daily basis.
The beauty of having your company's very own email marketing list is that once the work has been put into collecting email addresses then the resulting list is yours to keep, as long as consent is given. Every time a user submits their email address to your database you can think of the user as a warm lead; this basically means that you know the user is already interested in your product or service. This can be the key to unlocking a higher conversion rate and increasing your revenue.
Additionally, email marketing tends to give a very acceptable ROI, especially when you consider that email campaigns can be relatively inexpensive to get off the ground – more so, even, than social media which can come with unexpected costs. While some brands do thrive on social channels like Facebook and Instagram, it's important to remember that your company's social media channels remain the property of the platform and they can be shut down with little to no warning. This is clearly an issue if you have invested a lot of time and money cultivating an online presence through social media.
Should something like this ever happen then email marketing can be your saviour. To get the most out of email, you will need to start including it in your marketing plans and strategy as soon as you possibly can. Starting out with email doesn't need to be a daunting task, and there are options available at almost any price point imaginable. As with most things in life, careful planning can mean the difference between success or failure, so give your email campaigns the best possible start with our useful tips.
The first thing you should do before dipping into email marketing is to come up with an achievable and realistic plan of action and establish your goals. Think about why you want to include email marketing – are you drawing attention to a product or service with a view to increasing sales? Are you looking to keep your audience up to date and encourage them to engage with your latest news, articles and content? Your goals will heavily inform how you approach email, so be sure to think carefully about them.
Secondly you need to think about how you will go about collecting and storing users' email addresses for your mailing list. Recent changes to GDPR in the EU mean that it's no longer acceptable to 'scrape' your customers' email data or simply transfer a mailing list from one company to another. There are many ways you can collect contact details though, including having a 'sign up' button prominently displayed on your site, or following up a customer's purchase with an option to sign up. GDPR is a big deal in the EU at the moment and refers to consent and positive opt-ins for mailing lists, we'll cover this in a bit more detail in a separate article.
Think about how you would like to encourage users to sign up. Most people respond well to being offered something in return for their precious data. Some of the most popular ways to encourage users to sign up to your awesome new mailing list is to offer incentives. You might like to try offering customers a discount on their first purchase if they sign up to your newsletter, or if your business relies on awesome content you can always remind users they can stay up to date with your content and insights by signing up. You can also offer incentives within the email once they have signed up, for instance you could include exclusive offers and information, or give your subscribers early access to promotions or new products.
Once you have formed a good idea of the kinds of things you want to include in your email campaigns then spend some time looking at your site critically. The aim is to make it easy for users to opt in and sign up, so you might want to include a header bar, a slider, a well thought out lightbox, or perhaps simply put a signup option at the bottom of your content. There's no right or wrong way to do this, it depends entirely on your site and how your users navigate it. If you're not sure what's best for your site then we can help to plan and implement this with you.
Once you have decided whether your campaigns will be centred around newsletters, promotions or announcements and how you'd like your users to sign up you can start planning the content of your campaign. This is the fun part – you get to put your message out to your subscribers and cultivate something really meaningful. There's a huge amount of choice out there when it comes to creating your emails each with their own benefits, but some of the most popular are MailChimp, ActiveCampaign and Hubspot. Before committing to any email creation tool it's best to make sure it has all the features you want and a budget that suits your business. We always recommend doing your research before forking out!
Enlist the experts
You should now be well on your way to creating your first email marketing campaign and have a good idea of how everything will look and more importantly how it will all come together. If you need a little help getting your email campaign up and running with sign up functionality then do contact us and we can get the ball rolling.
Unless you've been living under a rock the past few years then you will have heard about GDPR and how these changes to the law could potentially affect your business
Unless you've been living under a rock the past few years then you will have heard about GDPR and how these changes to the law could potentially affect your business. You may be wondering how your business in particular can stay on the right side of the law, especially if you make use of mailing lists and collect personal information from your customers and website users.
To understand the risks associated with GDPR it's important to know a bit more about what the law is and what it's designed to do. Essentially, it was brought in to protect users from having their data misused, and it places a high emphasis on the importance of consent and proper data management.
The new GDPR legislation is designed to be an updated and more robust version of the Data Protection Act of 1998 which grants more protection to consumers. The aim is to ensure that businesses have effective and compliant ways of collecting and storing users' information, and to prevent other companies from getting their hands on individuals' data without their expressed consent.
The main differences between the original Data Protection Act and GDPR are as follows:
The definition of 'personal data' has been expanded to include information which was previously unprotected.
Companies must seek specific and explicit consent in order to collect and store personally identifiable information such as email addresses.
Further to the above point, users also have a right to be 'forgotten' and have their personally identifiable data removed from databases after a certain amount of time even if express consent is given.
Users must actively opt in to mailing lists and other data processing rather than using 'soft' opt ins.
Some businesses are required to appoint data protection officers who will be responsible for making sure data collection within the company is compliant with new GDPR legislation.
New legislation extends to companies outside the EU which deal with data from EU sources.
Companies are now operating with a duty to report any data breaches to the Information Commissioner within a predetermined time frame.
More extensive penalties have been introduced for those found to be non-compliant including fines of €20 million or more.
These points represent big changes in the way businesses handle their customers' and site users' data, and you do need to be aware of them and how they will affect your operations. To assess your site for GDPR compliance you can use the following list as a starting point:
A privacy notice must be listed on your site which details how and why data is collected as well as how it will be used and how long it will be kept for.
When collecting new user information you must make sure your process takes users' new extended rights into consideration
Express consent must be given for any data collected, and if this data comes from children then age verification and express parental consent must be sought.
It's a good idea to carry out an audit of all the data you currently store to make sure it is compliant as previous 'soft' opt-ins may no longer be permitted under the new guidelines. You should also bear in mind that data which has been on file for a while may be infringing on users' rights to be 'forgotten' after a certain time frame, so look into this too.
This is especially important if your business utilises email marketing to engage with customers and users, so be sure to ensure all of your databases are compliant and in line with the new law. If you are new to email marketing, then it's good practise to make sure your venture is compliant before you start collecting information.
A further note we'd like to add is that cookies are also covered under GDPR changes. If you want to make use of cookies on your site then you must also get consent from your users. You are obliged to let users know that the cookies are there, what they are for and why, and you must seek the user's consent to use the cookies with their device.
Of course, we're web design specialists not legal practitioners, so this information is only intended to be a starting point for your business. We'd always recommend getting assistance from a professional who specialises in GDPR and data protection if you're unsure of anything.
When it comes to building a newsletter opt in form and making sure your privacy notice is up and running correctly then it's highly recommended that you consult with a specialist. Luckily, this is something we carry out regularly and are more than happy to help with.